Shepparton Table Tennis Association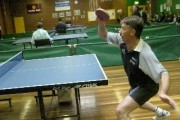 Table tennis is one of the world's fastest ball sports, with its world-wide popularity only second to soccer.
STTA is an open and friendly community based organisation that provides table tennis facilities and competition for Greater Shepparton. We welcome new players of all ages and abilities and generally have a competition to suit you. We play at the Shepparton Sports Stadium in Numurkah Rd (GV Hwy) Shepparton.
Competitions and programs
Open Night: Anyone is welcome to come and try-out the sport. Useful for social hits, serious training or coaching. New players are graded via our open nights. Every Thursday Evening from 7.00pm till 9.00pm
A Grade Comp: The very best table tennis players found in Shepparton and surrounds play this grade. Played Monday nights from 7.30pm.
B Grade Comp: The feeder comp for potential A graders. Is a fun social hit of table tennis for those that like to a social hit, get more practice or just develop their game. Our developing juniors will go through this grade on their way to A Grade. Played Wednesday Nights from 7.00pm
C Grade Comp: Generally the first step for backyard or garage players to test and develop their skill in an easy-going competition. Our juniors develop through this grade into B Grade. Played Wednesday Nights from 7.00pm
Junior Comp: Run specifically for the 8 - 14 y.o age bracket of juniors who are keen on Table Tennis. Parents are most welcome to come along and watch. This is a fun, well run comp for juniors who enjoy table tennis and want to develop their game. This also provides an entry to our occasional coaching clinics delivered by the best players our region has to offer. Played Fridays from 5.30pm till 7.00pm
Keenagers: A recreational activity for retirees or over 50s who enjoy a social hit. This non-competitive hit is there for those who enjoy their table tennis but may no longer enjoy the competitive side or who want an extra hit during the week with other retirees. Run on Tuesdays from 9.00am till 11.00am
Interleague: Local pride is important when we play off against other regions. Each comp is generally held once a year as either a home or away event. Regular competitors include Yarrawonga, Tatura and Essendon.
Country Week: Shepparton regularly sends a competitive team to Country Week. An annual event every Queens Birthday weekend where country Victorian towns play off in a three day tournament.
Contact and Committee Details
If you would like to have fun and participate in table tennis, please contact our committee members:
President
Chris Anders - 0428 398 026, shepptta@gmail.com
Vice President
Robert Thompson - 0438 523 472
Secretary
Bruce Dainton - 5831 2791
Treasurer
Wayne O'Connor