Group Fitness and Active for Life Programs
The stadium has a variety of group fitness and sport programs for all tastes, fitness levels and abilities, including our "Active for Life" classes.
Shepparton Sports Stadium's Active for Life Programs are accessible to all abilities. The programs are designed to suit older adults, however each exercise can be modified depending on your ability.
Check out our timetable and descriptions below for a full list of programs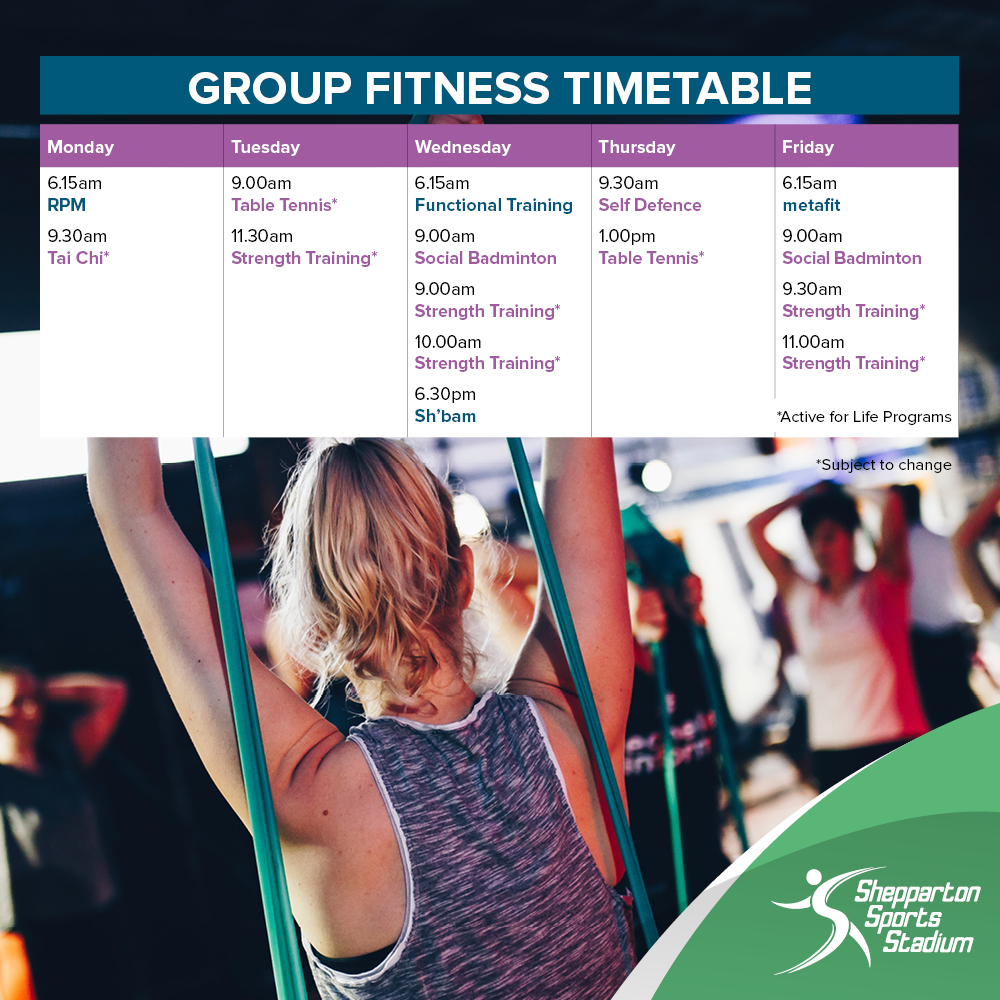 CLASS DESCRIPTIONS
RPM
RPM is an awesome and powerful indoor cycling class which is fantastic for shaping and toning the lower body and will dramatically increase your fitness levels. The ride is totally controlled by you, via a resistance gauge.
FUNCTIONAL TRAINING
Functional Training creates a healthy, well-conditioned body and is effective for individuals who need to improve balance, stability and neuromuscular coordination. This class also helps build inner strength, whilst improving endurance, range of motion and posture.
METAFIT
Metafit is a 30-minute, bodyweight-only, non-choreographed, high intensity interval training (HIIT) workout. Metafit classes reduce the amount of time spent looking at a stopwatch or app, and increase the focus on technique, range of motion and intensity
SH'BAM
Featuring simple but seriously hot dance moves, Sh'Bam is the perfect way to shape up and let out your inner star– even if dance isn't your natural thing. You'll have so much fun you will forget that you are exercising.
ACTIVE FOR LIFE CLASSES
TAI CHI
Tai Chi is a series of gentle exercises and breathing techniques that will relax your body and mind
TABLE TENNIS
A fun and social hit for those who enjoy a casual game. Equipment is provided, or bring your own
STRENGTH TRAINING - TUESDAY
A slower sitting and standing program with a focus on increasing overall strength, but also flexibility, mobility, posture and balance
STRENGTH TRAINING - WEDNESDAY
A sitting and standing class using lighter weights to develop and maintain muscle endurance, agility and coordination. All exercises can be modified to suit all needs and abilities
STRENGTH TRAINING - FRIDAY
A weights circuit program that focuses on increasing strength, balance and hand-eye coordination. All exercises can be modified to suit all needs and abilities
SOCIAL BADMINTON
A casual hit of badminton for a variety of abilities. Badminton is a fun and social sport with several health advantages such as strength, mobility, flexibility and muscular endurance. Equipment is provided, or bring your own
SELF DEFENCE
Draws from a range of Martial Arts disciplines to teach you the basics of self defence, while keeping you fit and healthy at the same time